Efter kraften vågnede, får vi nu næste kapitel i den store Star Wars saga, hvor en af hovedpersonerne er selve den oprindelige Skywalker, spillet af den oprindelige skuespiller Mark Hamill. Han er blevet en sur og tvær gammel mand. Nærmest som Yoda i den gamle trilogi. Han har også samme funktion som læremester for wanna-be-jedien, som Yoda havde i The Empire Strikes back. Hvor læremesterens værgen ved at undervise sin elev i Empire var tvivl om hvor vidt han var værdig, er Luke Skywalker her i tvil om hele Jedi-ordenens berettigelse. Det er nærmest en meta-kritik af hvordan jedierne har opført sig i de gamle film, og måske især i Lucas prequel-trilogi. De opdagede ikke den ultimative ondskab som de var nabo til og forkludrede alting politisk. Det er jedierne som sådan Luke ikke finder værdige.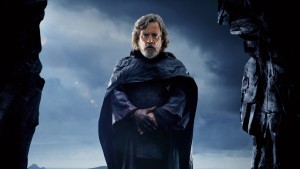 Det er ting som det der gør at jeg er ret glad for den nye trilogi. Som jeg nævnte i et tidligere indlæg er der meget genbrug af gamle ting, og det gælder i næsten lige så høj grad Last Jedi, som det gjaldt Awakens. Men hver ting får lige en lille, interessant drejning. Gamle Luke er ikke bare Yoda om igen, men en Yoda der har mistet troen helt, og faktisk afsværget The Force. På samme måde er skurken Kylo Ren ikke bare en morderisk psykopat i en sort rustning der, uden vi kan se hvad der sker inde bag masken, pludselig gør det moralsk rigtige i sin sidste scene. Når Last Jedi lakker mod enden, har vi en ganske god ide om hvilken slags ond mand han er og hvorfor. Jeg tror næsten det har været en ambition for de kreative folk bag den nye trilogi – at gentage nogle af klicheerne fra de gamle film, men se om ikke de kan gøre det bedre. En tredje af den slags ting de gør i Last Jedi fandt jeg helt fantastisk: Gentagelsen af scenen fra den allerførste film, hvor Obi-Wan ofrer sig for at vor helte kan stikke af. Luke Skywalker forlader sandelig ikke Star Wars-universet med et klynk!
Last Jedi er både Luke Skywalkers og Reys (Daisy Ridley) film. Rey gennemløber en heltens rejse, inklusiv en ny konfrontation med Kylo Ren, og Luke har parallelt hermed en rejse væk fra den håbløshed han er havnet i ved filmens start, til at have genfundet sin forbindelse til The Force. Og The Force er tilbage som en magisk / mystisk kraft, i stedet for de superkræfter den havde degenereret til i prequel-filmene. Men sjældent er noget så godt at man ikke kan kritisere det. Og der er da også rigeligt at kritisere i Last Jedi. Hvor historien med Luke, Ray og Kylo Ren fungerer ret fint, er historien om oprørsflådens flugt fra det nye imperiums flåde ofte ret anstrengende. Vi skal tro på at Poe er så god en pilot at han næsten ene mand i kan vinde et rumslag, og trækkes med Finns klovnerier i en sidehistorie der foregår mens oprørsflåden jages. Det hjælper lidt at Poe bliver sat på plads af Laura Derns viceadmiral og Finn af Benicio Del Toros rum-svindler. Men der kunne være sparet et pænt stykke af filmens to en halv time og to hundrede millioner dollars budget på de scener, uden det blev en ringere film. Måske det er ensemble-filmenes forbandelse – at når skuespillerne nu er hyret skal de også bruges, eller også er det et kikset forsøg på at eftergøre spændingen med de to parallelle handlinger i Empire Strikes Back.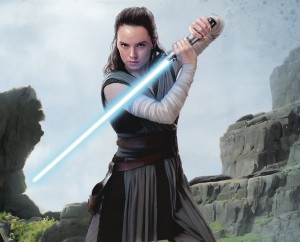 I forhold til Empire er der nogle af scenerne i Last Jedi jeg faktisk synes er bedre, og den udmærker sig også ved at gøre nogenlunde rent bord og ikke at slutte med en cliffhanger, men på grund af det meget rod og pjat i Last Jedi, falder sammenligningen ud til Empires fordel. Det ændrer overhovedet ikke ved at jeg synes den nye trilogi er langt bedre end Lucas' prequel-film, hvor der var tale om film der i bund og grund ikke fungerede, men med nogle gode ting i. Her er det omvendt. Der var mere pjat og pjank i Last Jedi end i Awakens, men til gengæld er der scener i Last Ledi der overgår det bedste i Awakens. Her vil jeg især fremhæve Mike Hamill. Skønt at se ham som karakterskuespiller, og levere sin karrieres bedste præstation.
Mens filmen stadig var i post-production blev familien Skywalker ramt af en tragedie ude i den virkelige verden. Hamills film-søster Carrie Fisher, der spiller oprørslederen prinsesse/general Leia og det andet af gamle Darth Vaders to børn, døde pludselig og meget uventet. Så dermed forsvinder den sidste oprindelige Skywalker ud af sagaen. Fisher var formentlig tiltænkt en større rolle i den tredje film i den nye trilogi, men nu må forfatterne så finde på noget andet. Hendes rolle i Last Jedi er ikke stor, men som mangeårlig fan af serien blev jeg glad for at der var en scene som viste at hun som sin bror også var nært knyttet til The Force.