Comics, Comic books, tegneserier, tegneseriealbum, graphic novels. Kært barn har mange navne. De serielle billeder, der ofte er ledsaget af tekst, har været en del af mit liv så længe jeg husker. Som de fleste af mine jævnaldrende, stiftede jeg meget tidligt bekendskab med den berømte amerikanske and og hans venner. Også her kom science fiction ind. Der var opfinderen Georg Gearløs og hans onde modstykke Øjvind Ørn. George opfandt jævnligt ting, som satte andehistorierne i gang. Uden ham havde det meste foregået i Andeby og handlet om kedelige ting. I hvert fald kedelige for en science fiction-fan, som jeg må have været allerede dengang.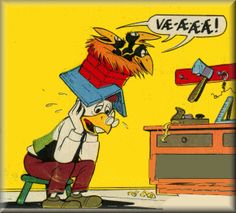 Siden blev jeg bidt af andre serier. Især den mytiske mand fra junglen – nej ikke ham i underbukserne med kniven, men ham i fornuftig heldragt med maske og to pistoler. Fantomet hed han. Der var også Batman og Superman, som på det tidspunkt var langt mindre mystiske, men havde flere farver. Og så kom der nogle helt andre maskefyre på banen. En blind mand, en mand der var blevet bidt af en radioaktiv edderkop. Det var Dæmonen og Edderkoppen fra forlaget Marvel. Kun få af deres serier kom på dansk dengang, men af og til kunne jeg finde nogle tyske under ferieture til Tyskland. Det var et alvorligt bid Marvel gav mig. Et helt univers af spændende historier, der foregik omtrent så langt fra andeby det var muligt at komme. Kun Wally Woods TORDEN-agenterne kunne i en periode overgå Marvel – det var science fiction forklædt som en superhelte-serie.
Ved siden af var der så de serier jeg holdt meget af, uden ligefrem at være bidt af dem: De europæiske serier. De udkom i album med i stedet for hæfter, og dem kunne man låne på bibliotektet. Der var Linda og Valentin – vaskeægte science fiction – og René Goscinnys fantastiske humor i Asterix, Lucky Luke og Iznogood og så selvfølgelig den kedelige Tintin med hans utrolige oplevelser og farverige persongalleri. Andre favoritter var Jan Lööfs eventyrlige Felix og Hugo Pratts geniale Corto Maltese.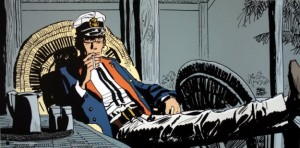 Teenage-Flemming opdagede på et tidspunkt postordrefirmaerne i USA – den tids online-butikker – og ikke mindst science fiction og tegneserie-paradiset inde i København: Fantask. Så var det slut med at have penge til overs i slutningen af måneden. Det var vistnok også deromkring at det gik op for mig at der faktisk blev tegnet tegneserier i Danmark og at der var mange andre danskere som interesserede sig for tegneserier og diskuterede tegneserier. Jeg blev en flittig læser af magasinet Kulørte Sider, som var den tids danske blad for tegneseriefans. De amerikanske superhelte fik selskab af det amerikanske storformat-blad Heavy Metal, der sjovt nok var en amerikansk udgave af et fransk blad, med tegnere som Moebius og Richard Corben.
Siden flyttede jeg fra provinsen til hovedstaden og kunne nu tage i Fantask flere gange om ugen, i stedet for kun at være fysisk til stede i butikken, når der var familieudflugt til København. Jeg læste nu The Comic Journal og havde spredt min superhelte-interesse ud over rigtig mange serier, der ikke kun var fra Marvel. Det var i de år Alan Moore lavede sin berømte anti-superhelte-serie Watchmen og Frank Miller gjorde gode gamle Dæmonen – det vil sige Daredevil – til en slags super-ninja. Her udkom også det amerikanske avant garde tegneserie-magasin RAW, hvor underlige eksperimentelle tegneserier delte blad med Art Spiegelmans Maus.

Hen mod slutningen af 1980'erne var mit yndlingsforlag blevet First Comics, der lavede forskellige alternative udgaver af superhelte-myten, så som Mike Baron og Steve Rudes kosmiske selvtægtsmand Nexus og John Ostrander og Timothy Trumans scifi/fantasy antihelt Grimjack. First Comics forsøgte da at lancere en luxus-udgave af illustrerede klassikere, klassiske romaner omsat til tegneserier af nogle af 1980'ernes bedste tegnere. Det var så vidt jeg husker det som slog forlaget ihjel. Ingen ville købe deres dyre luxushæfter. Så på en gang forsvandt de fleste af mine yndlingsserier. Og 1990'erne indfandt sig, med en form for superhelte jeg ikke brød mig ret meget om: Jo mere vold og død, jo bedre – jo mere dystre historier, jo bedre. Den eneste jeg havde lidt sympati for, var Pat Mills and Kevin O'Neills Marshall Law, der havde som opgave at likvidere alle de andre superhelte, som var endnu mere gale end ham selv.
Så jeg lagde mere eller mindre tegneserierne på hylden midt i 1990'erne. Der gik så ti år. Da hørte jeg om noget der hed Komiks.dk, som foregik kun et par gader fra hvor jeg boede. Det viste sig at være en festival for tegneserier, hvor man havde hentet blandt andet Marv Wolfman, en af de gamle tegneseriehelte fra Marvel, helt til København. Og siden da har jeg tilbragt mange gode weekender på Komiks – som nu hedder Copenhagen Comics. Hver gang med nye af mine gamle idoler og med nye nye interessante folk fra tegneseriernes verden. Så med omkring to års mellemrum (festivalen er kun hvert andet år) vågner min indre tegnseriefan op fra sit vågeblus. Senest da Art Spiegelman kom forbi og sagde mange kloge ord om tegneserier, tegninger og politik.