Vinteren er virkelig kommet til Westeros. I hvert fald er der småt med bevægelse i hovedpersonernes historier. Jeg har før skrevet hvad jeg synes om Games of Thrones tv-serien, og vil følge lidt op på det her, efter det der er annonceret som den næstsidste sæson, er afsluttet.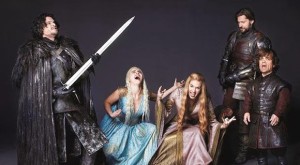 Universet i serien er egentlig ret trivielt. Der er en stor feudalt organiseret stat, nord for den et område med monstre, øst for det en række bystater. Næsten alt er velkendt fantasy-territorium. Men personerne er interessante, eller i hvert fald nogle af dem er. Jeg har et problem med at mange af dem er psykopater. Af og til er det direkte ubehageligt for mig at se GoT. Jeg er dog fortsat, fordi der blev fortalt nogle gode historier med flere af personerne.
Lad mig starte med dem jeg nævner i overskriften: Det er hhv. Jon Snow, Jamie Lannister, Arya Stalk og hende med dragerne. For dem som ikke ved det, så er en "Mary Sue" en person i fiktion som forfatteren er lidt for glad for, og som er udstyret med egenskaber der gør det meget let for dem at vinde de konflikter de kommer ud for i fiktionen.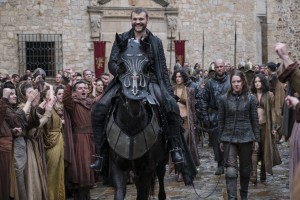 Jon Snow: Lige som sin afdøde bror (eller hvad han nu var efter de seneste afsløringer af forhistorien) er Jon Snow ude af stand til at se hvornår hans allierede er utilfredse med ham og vil ham til livs. Han er også i stand til finde på planer som er idiotisk naive og dumdristige, men alligevel lykkedes (fordi det er en del af plottet at de skal). I modsætning til broderen fik han så mulighed for at prøve en gang til at opføre sig fornuftigt, da hans held rendte ud, og han døde, men blev genoplivet på magisk vis. Det benyttede han sig så af til at finde på en ny idiotisk plan, som nær var endt i en total katastrofe. Jeg ved ikke om jeg skal grine eller græde over ham, men som karakter synes jeg bare han er en marionet, der danser rundt hvor plottet fører ham hen.
Jaime Lannister: En af mine favoritter. Han er en antihelt, fordi han faktisk er temmelig heroisk, men også har en stor moralsk brist mht. søsteren. Som i øvrigt er en fremragende skurk i historien, og spilles eminent af Lena Headey. Men uden så meget udvikling i. Jamie har til gengæld udviklet sig gennem flere af sæsonerne. Han har ikke brudt med søsteren, men er ikke mere helt så hjælpeløs en slave af sine følelser for hende. Men alt andet lige, så er han stadig uløseligt forbundet til hende, og har set hvor hendes historie ender. Derfor forsøgte han at dø i et heroisk forsøg på at vende søsterens krigslykke, men det fik han så ikke lov til af plottet. Men ærligt talt ved jeg ikke hvad mere der er at fortælle i hans historie.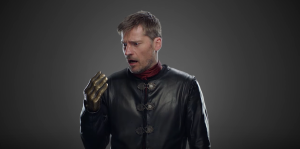 Dragedamen: Blandt hendes egenskaber er at få stort set alle mænd hun møder til et blive forelskede i sig og følge hende. Dertil har hun tre drager, der indtil sæson syv fungerede som et uovervindeligt "weapon of mass destruction". Med det har hun så erobret et helt kontinent, som den hvide gudinde der kommer til de sortes land og viser dem hvordan man skal føre krig og hvordan man skal styre et samfund. Hvor sympatisk jeg end synes Emily Clarke er, er dragedamen noget af det dårligste ved GoT.
Arya Stark: Min tidligere yndlings-Stark fik et lynkursus som ninja, og blev forvandlet til super-kriger og nok en psykopat i GoT. Det interessante ved hende var alle de underlige (og voldelige) mennesker hun mødte, og hendes barnlige plan om at hævne sig på alle der nogensinde havde gjort hende ondt. I stedet for at blive voksen, blev hun til en Mary Sue.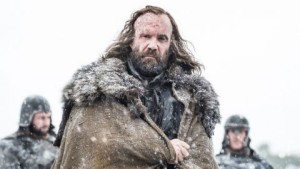 De andre som gik i stå eller døde: Tyrion Lannister holdt op med at være en interessant karakter, da han sluttede sig til dragedamen. Hvor han før havde en sarkastisk og kritisk holdning til sine magtfulde medmennesker, er han nu overbevist om at en ung kvinde, der godt nok ikke er ren psykopat, men er ekstremt narcissistisk, vil være den perfekte diktator over hele Westeros. "Littlefinger"s død virkede som noget der bare skulle overstås, mens Diana Riggs Tyrell-overhoved dog fik en nogenlunde ok dødsscene. Ian Glens Jorah var der lidt mere historie i, men han er tilbage som soldat for dragedamen.
Hvad jeg forventer mig af den sidste sæson: Selvfølgelig en masse dyre og flotte scener. Og en ny person på jerntronen. Jeg håber de kan få lidt interessant ud af Cersei og Jaimes historie. Pilou Asbæks psykopatpirat er stadig jævnt underholdende, og vi mangler at få en afklaring på hvad der sker med hans familiefejde. The Hound kunne der også være lidt mere historie i. Men nogen store forventninger har jeg ikke, selv om jeg selvfølgelig er nysgerrig nok til at se hvad der sker, nu hvor jeg har set de foregående syv sæsoner.