Det første job, jeg kan huske jeg havde, var som jordbærplukker en usædvanlig tør sommer. Jeg tror det lykkedes mig at samle en fire-fem bakker, hvilket jeg fik nogle få kroner for, i løbet af en dag. Så det blev ikke mit foretrukne karrierevalg.
I min første periode som studerende, lige efter gymnasiet, var jeg så heldig at få plads på et kollegium hvor man ikke skulle betale husleje. Det gjorde at jeg kunne klare mig et langt stykke tid uden et arbejde, for bare SU. Da jeg så omsider fik brug for et job, fik jeg det første jeg søgte: Dengang skulle man bare vide lidt om computere for at være en meget efterspurgt arbejdskraft, så jeg fik job som programmør på baggrund af at have bestået det første år af datalogistudiet.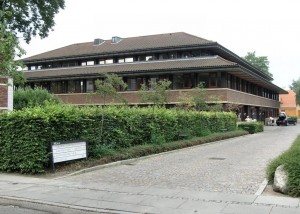 Jobbet – på Carlsberg Forskningscenter – udviklede sig med tiden til et fuldtidsjob. Efterhånden som man gik over til færdigt programmel, i stedet for at lave det selv, og efterhånden som flere og flere af de ansatte fik computere, blev der mindre brug for programmører og mere brug for supportere. Det var så det jeg blev. Jeg var med til at få nogle af de første udgaver af PC'er med tilhørende hardware og software til at fungere og til at sætte netværk op, fra et simpelt peer-to-peer Microsoft netværk til det mere avancerede OS/2 Lan Server. Det var dengang man ikke bare kunne trykke på installer-knappen, og så ordnede installationsprogrammet det hele. Der var en sværm af mystiske og dårligt dokumenterede parametre man skulle stille på, for at få skidtet til at fungere. Så det var ikke noget under at Microsoft, med deres mere brugervenlige NT Server, nogle år senere totalt udkonkurrerede OS/2 Lan Server.
I mellemtiden var jeg flyttet over til Carlsbergs centrale EDB-afdeling, hvor de havde brug for en der havde arbejdet med servere. Her havde jeg en kort, hektisk og lærerig tid, som endte med at jeg sagde stop på grund af for meget stress. Da havde jeg også været på Carlsberg i over ti år. Det næste halve års tid forsøgte jeg at finde et job jeg kunne lide, men da det ikke lykkedes, besluttede jeg omsider at vende tilbage til studierne. I første omgang uden anden indtægt end SU, men det blev snart nødvendigt med en ekstra indtægt, så jeg fandt et job på et institut på Handelshøjskolen, hvor jeg skulle supportere forskerne og TAP'erne, og holde deres enlige server samt hjemmeside i luften. Det var et ganske hyggeligt job, som jeg beholdt indtil jeg skulle i gang med at skrive speciale.
Da jeg så endte i den berømte specialesump, måtte jeg alligevel finde et nyt job ikke så længe efter. Det blev til et job på Instituttet for Fremtidsforskning, hvor jeg skulle oversætte artikler fra dansk til engelsk (og omvendt) og lave et ugentligt nyhedsbrev. Jeg er ikke så dårlig til engelsk, men at overtætte til dansk fra engelsk gik frustrerende langsomt, da jeg ikke ville aflevere noget der var ukorrekt eller dårligt sprog, så det var nok heller ikke oversætter, der skulle være min fremtidige karriere.
Efter et kort job med at overføre nogle artikler om populærvidenskab fra et gammelt cms til et nyt, fik jeg så et "rigtigt" job som underviser på en handelsskole i 2007. Der var omkring fem timers transport hver dag, og imens jeg var der skrev jeg specialet færdigt og fik taget pædagogikum, så det var til tider ret udmattende og stressende. Men jeg fik lært en masse om at undervise og fik mig sat ind i nogle kroge af mine fag hvor jeg ikke havde været før. Så jeg fortryder ikke at jeg tog det, men savner heller ikke jobbet.
Så er vi fremme ved nutiden, hvor jeg lige er startet på nok en uddannelse, efter at have optrådt som klovn i Cirkus Aktivering i lidt for mange år.