Efter at have været et næsten fast indslag i rulleteksterne på Marvels film siden den første Avengers-film, nåede Marvel omsider frem til en film hvor superskurken Thanos er med i selve filmen. Avengers: Infinity War handler om at Thanos færdiggør de sidste dele af den plan han har arbejdet på.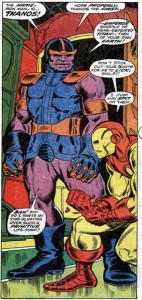 Thanos er udsprunget af tegneserie-forfatter/tegneren Jim Starlins hovede. Han gjorde sin debut i en historie hvor blandt andre Iron Man, Drax the Destroyer og Captain Marvel også optrådte. Af dem har vi stadig til gode at møde Captain Marvel i filmene, mens filmversionen af Drax er lavet en del om i forhold til tegneserierne. Thanos' plan var at få fat i et objekt som kaldes The Cosmic Cube, der giver ejeren næsten uendelig magt. Med den kunne han fortsætte sin brutale erobringskrig i meget større skala. Allerede fra starten af var Thanos fremstillet som den onde selv. Starlin var kraftigt inspireret af Jack Kirbys Darkseid, der er hersker over helvedes-planeten Apokolips. Thanos er fra Saturns måne Titan, hvor han er søn af herskeren Mentor. Thanos er i høj grad familiens sorte får: I tegneserien skabte Mentos far Drax the Destroyer, som har et formål her i verden: At dræbe Thanos.
Thanos er nemlig en psykopat af værste skuffe. Ligesom virkelighedens psykopat Peter Lundin, har han myrdet sin egen mor. Og talløse andre, herunder slægtninge og artsfæller. Hvilket bringer mig til mit første problem med filmen. I tegneserierne er Thanos nærmest blevet en superstar, med sin egen serie og talløse optrædener. Og jeg har et problem med at man tilbeder psykopater. Psykopater ude i virkeligheden ødelægger og forpester andre menneskers liv, hvis de da ikke slår dem ihjel. I de nyere historier med Thanos – og ikke mindst i filmen Infinity War – fremstilles Thanos som manden der har fuldstændig styr på det hele, som en rollemodel for hvordan man skal være, hvis man vil have succes. I hvert fald for dem som ikke tænker nøjere over hvad der sker og hvad der bliver sagt.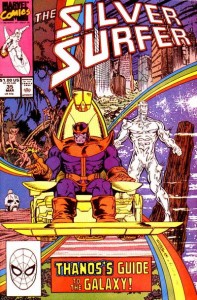 Men tilbage til Infinity War: Paradoksalt nok, så er noget af det jeg synes er godt ved den faktisk Josh Brolin i rollen som Thanos. Han giver et formidabelt portræt af en ekstremt narcissistisk psykopat og superskurk. Thanos er så også omtrent den eneste af filmens personer der bliver foldet helt ud. De fleste af de mange superhelte har kun nogle få scener. Hvis ikke man har set nogle af de mange andre Marvel-film de optræder i, må de vel bare virke som statister der har fået nogle få replikker. Enkelte af superheltene har lidt større roller end de andre, men der er ingen tvivl om at filmens hovedperson er Thanos.
Der skal gives lidt ros til filmens manuskriptforfattere. Det må ikke have været nemt at få den vældige mængde tegneserie-materiale kogt ned til en nogenlunde sammenhængende historie, der kan tilfredsstille et voksent biografpublikum. I tegneserierne mistede Thanos sin kosmiske terning, men nogle år senere begyndte han at samle på sten: Det er seks mægtige sten med hver deres egenskab. Thanos regnede ud at hvis han samlede alle seks på sin handske, ville han være mægtig nok til at gennemføre sin nye plan. Stenene hed oprindeligt soul gems, men de kom senere til at hedde The Infinity Gems og handsken The Infinity Gauntlet. Heraf Infinty War. Jeg vil ikke spoile hvad Thanos' plan er, men igen rose manuskriptforfatterne for at have omskrevet Thanos plan fra tegneserierne lidt, så den giver mere mening. I princippet er næsten alle de følgende historier med Thanos den samme som den første Thanos-historie, men med lidt variationer, for eksempel i at Cosmic Cube erstattes af Infinity Gauntlet.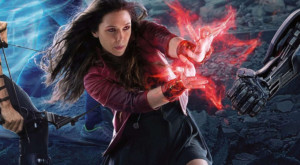 Handlingen i Infinity War er splittet op i delhandlinger med hvert deres lille team af superhelte. Udover Thanos kæmper de mod Thanos' fire håndlangere og monstre i rigelige mængder. Det fungerer rimeligt godt, og skaber dynamik i plottet. Men alt er også styret af plottet. Der er – som tidligere nævnt – meget lidt tid til hver af personerne, så det meste af tiden må de hoppe og danse rundt efter plottet, i stedet for folde sig ud som hele karakterer. Gang på gang må de desværre også opføre sig temmelig dumt, for at plottet kan hænge sammen og Thanos' plan kan lykkedes. Nogle af scenerne virker til kun at være der for at man kan se de superhelte, der har meget lidt betydning for plottet, foretage sig noget.
Infinity War er en film der vader i døde, somme tider helt bogstaveligt. Det undrer mig faktisk at den kun har fået en PG-13 rating. Det undrer mig også at dem som gang på gang har kritiseret Marvels konkurrent DC for at lave for dystre og mørke film, tilsyneladende er tavse nu. Der er også rigeligt med vittigheder, mange af dem alt for platte til min smag. Men Iron Man / Robert Downey og Thor / Chris Hemsworth har bevaret det meste af deres charme, og Guardian of the Galaxy-teamet tilfører også lidt ægte humor.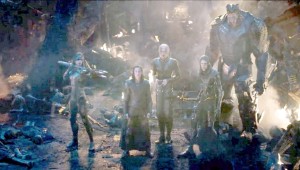 Er det så en god film? Nej, egentlig ikke. Men det kunne være gået rigtig galt med så mange superhelte i den samme film. Filmholdet har løst deres bundne opgave fint, men jeg foretrækker en film som Guardians of the Galaxy 2, der har mange af de samme temaer, men langt mere interessante personer, bedre humor, og død og ødelæggelse der ikke svælges i som Infinity War gør det. Hvis man i modsætning til mig er Thanos-fan, og af Marvel-film mindst har set de forgående Avengers-film (hvor jeg regner Captain America: Civil War som en Avengers-film), samt helst også Guardians of the Galaxy 2, kan jeg godt anbefale Infinity War. Med det forbehold at det er del 1 af 2, og jeg selvfølgelig ikke har set del 2. Men jeg tror faktisk de har mulighed for at lave fortsættelsen til en bedre film: Hvis det var en tre-akts-film, så ville akt 1 og 2 være overstået nu, og der ville være god tid til at lave en ordentlig akt 3.