Science Fiction's Worldcon is a gathering of fans from most countries on Earth. So when the covid-19 pandemic stuck, the organizers of this year's Worldcon in New Zealand predicted that they wouldn't be able to hold a physical convention, and decided to turn the physical convention into a virtual convention.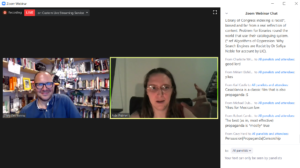 Not having the money required to go to New Zealand for a week, I didn't consider going to Worldcon in 2020, but even though I still had to pay for the membership, I signed up for the virtual convention. One of the benfits of being a member of a Worldcon is that you can vote for the Hugo Award, and you get a package of e-versions of most of the nominated work, so that you can read it without paying a fortune for the books. I didn't have much time to read, but I did manage to read a little and vote in some of the categories.
Earlier in the Corona Crisis I attended a few other online events (Cymera 2020, D&D Live 2020 and San Diego Comic Con). But they were mostly just a a combination of streamed live videos and prerecorded videos that the organizers made available according to a program. CoNZealand was much more ambitious than that. They actually tried to make virtual versions of everything that a physical convention has, including a market, exhibitions, a film festival, bars and parties.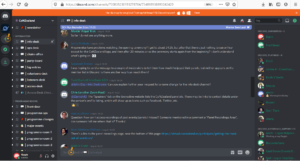 The software used for this was Discord and Zoom. Discord allows users to gather in small or large groups on the internet and communicate by voice and text. The login on Discord was used for user acces to all Worldcon activities via an interface. It wasn't ready until right before the convention, and took some time to get used to, but worked fine, once set up.
In Discord you could hang out, and go to some of the many "rooms" (channels), most of which were text only, but a few were also with sound. This was were you could get information and help, and this was where discussion about a program item you just attened took place, ofen with the presenters and panellist taking part. There was an eleborate system for showing the other users information about you, and for various preferences in social behavior towards you, like if you allowed private notes to be sent to you.
To go to the exhibitions, film festival and the program, you would have to leave Discord and use the CoNZealand webpage (but wasn't required to log in again). From there links took you to the place you wanted to go. The program schedule ran in Grenadine (used by many other conventions in the past few years) and was was online only, but could run on mobile devices like most of the convention. From the there you could get to Zoom to follow the program items (als0 without logging in again).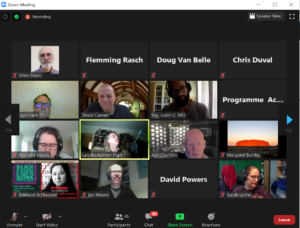 Zoom is an advanced conference and meeting software, that I think many of us have encountered during the Corona Crisis. You can get the basic version for free, but the free version is limited to "meetings" with a few participants and for short meetings. The "meeting" is the basic form of Zoom, where everybody can see and talk to everybody. At CoNZealand they used that and "webinar" that is more suited for presentations and panel discussions. But it wasn't always clear to me why they choose one over the other. In the academic track for example, they used "meetings", but it seems to me that "webinar" would have been more suitable.
Like I heard in one of the tutorials, "meeting" is like a meeting around a (large) table, "webinar" is like a talk in an auditorium. The main diffenrence is that you have less interaction with the audience in a webinar, but also are able to handle a large number of participants. Questions from the audience is possible in a webinar, but you have to get permission to speak.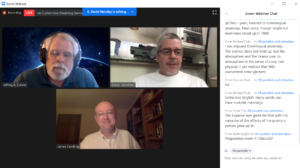 The way Zoom works is that there is a "host" for every event, who starts and stops the meeting and have full control over it. In ConZealand this "host" was one of the organizers, who usually stayed more or less invisble, once the particiants had started. This actually worked very well, and better than what I'm used to in psysical conventions, were there is often confusion about when and how to stop, and tech service is something you must call for and often wait a long time for. It wasn't without glitzes though.
One program item I attended did go over time: George R.R. Martin and Robert Silverberg talking about the good old days of sf fandom, and alle the sf writers and fans they knew, who are now dead. In particular Gardner Dozios, who was just one year older than Martin. I was quite touced by that, having reached the age myself where many of people I have known, are gone. This is probably the saddest thing about getting old. I was also reminded about how much sf fandom have changed. When Martin started writing, and perhaps more so when Silverberg was a young writer, is was like a family, where everybody knew everybody.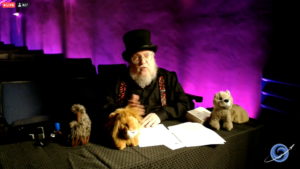 The Hugo Award was a strange mix of Martin and Silverbergs version of fandom and the never, more progressive fandom who actually won the awards. I like both these parts of fandom, and I think George R.P. Martin does too, but many didn't like Martin's very long Hugo Ceremony. But I'll get more into this discussion in another post. I managed to hear a readning by the writer, who later won the award for best novel, Arcady Martine. I haven't read her (first!) novel yet, but I will try to get to it soon. It got very good reviews.
One of the adventages of running a virtual convention is that it´s very easy to record everything. CoNZealand made most of the program items available for viewing later. That turned out to be a very conveient for me, as I managed to doze of several times during the middle of the night parts of the convention. It took some time to get it to work though. The same was the case for the film feastival, that featured at lot of short genre films, mostly very low budget or amateur, as far as I couls tell. But I only saw a very smart selection of what they showed, when they finally got it working.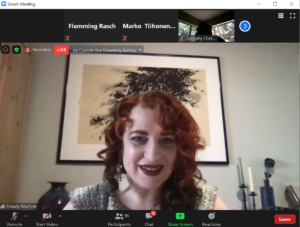 All in all, I think CoNZealand was a very good experience. I was amazed at how much they actually had got to work. The Discord after-program-items-discussions was a very good idea. And except for small technical delays, there were no queues! Of course there were many prolems, large and small, but that was to be expected from someting completely new, and most of the problems were solved. I do miss seeing another country and being with other fans in a physical place, but I think a virtual convention have turned out to an altenative that can be used in the future, when a physical convention is not possible for some reason, pandemic or just lack of space or money. Thank you to all the people who were involved in organizing and running CoNZealand.